Recherche
RESEARCHE THEORETIQUE :
Développement d'un nouvel model Vectorial Compex Ray Model permettant de prédire l'interaction d'un faisceau lumineux quelconque par un objet de forme quelconque de surface lisse.
Recherche théorique et technique de calcul numérique de  diffusion d'un faisceau laser par une particule sphérique et cylindrique. homogène ou stratifiée.
Prédiction des effets mécaniques (force et couple) exercés sur une particule par un faisceau laser.
RECHERCHE EXPERIMENTALE:
Spectrométries d'extinction des particules fines et applications à la mesure de vapeur humide, suies, aérosols …
Imagerie des particules et applications dans shadow Doppler velocimetry, Glaire Spot Phase, …
Réfractométrie d'arc-en-ciel et applications à l'études de la stabilité d'un jet liquide et la caractérisation des particules non-sphériques, …
Enseignement
L2 PMPC: Outils mathématiques: Cours, TD
L3 PMPC: Mécanique générale: Cours, TD
M2 ImagCell : Détecteurs optiques: Cours
M2 EFE : Métrologie des particules:
Fundamentals pdf
Theories of light scatteringpdf
Measurement techniques pdf
Lecture series:
Scattering of shaped beam by particles and its applications
Publications
Q. Duan, F. Onofri, X. Han and K. F. Ren, "Generalized rainbow
patterns of oblate drops simulated by a ray model in three dimensions", Opt.Lett. 42(18): 4585-4588 (2021)

link

C. Zhang, C. Rozé, and K. F. Ren, "Airy theory revisited with VCRM and physical optics", ELS XIX 2021 pdf, vidéo 3h03
K. F. Ren* and J Shen, "Scattering of shaped beams by large particles : Theoretical interpretation and numerical techniques", Chap PDF 

in 

Springer Series in Light Scattering

, Springer, 2021 vol. 7, pp 125-158, 

K. F. Ren and C. Rozé, "Vectorial Complex Ray Model for light scattering of nonspherical particles", Chap. 7 in

Advances in Optics : Reviews

, vol. 1, IFSA Publishing, 2018

pdf
K. F. Ren, F. Onofri, C. Rozé and T. Girasole, « Vectorial complex ray model and application to two dimensional scattering of plane wave by a spheroidal particle », Opt. Lett. 36(3) : 370-372, 2011 pdf
F. Onofri, K. F. Ren, M. Sentis, Q. Gaubert, and C. Pelcé, « Experimental validation of the vectorial complex ray model on the inter-caustics scattering of oblate droplets », Opt. Exp. 23(12), 15768-15773, 2015 pdf
K. F. Ren « Numerical techniques for shaped beam scattering by large and absorbing particle using variable separation methods » , LIP 2014, Marseille (France), Keynote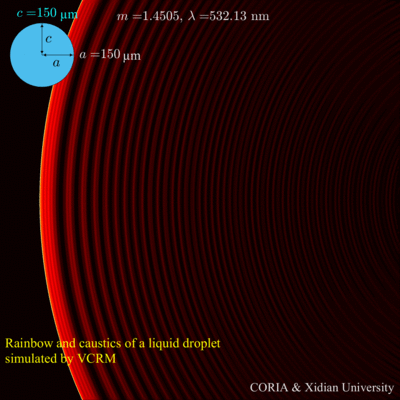 Arc-en-ciel d'une goutte déformée calculé par VCRM.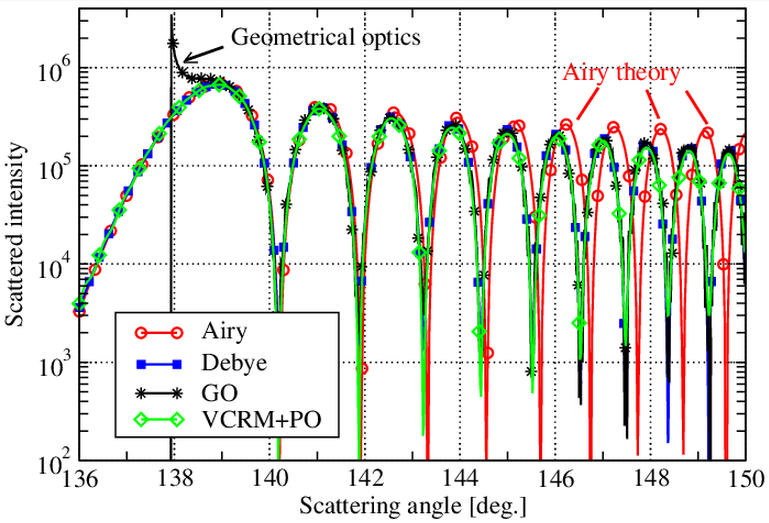 VCRM prédit mieux les positions et les intensités des piques d'Airy que la théorie d'Airy en comparant avec la théorie rigoureuse de Debye. .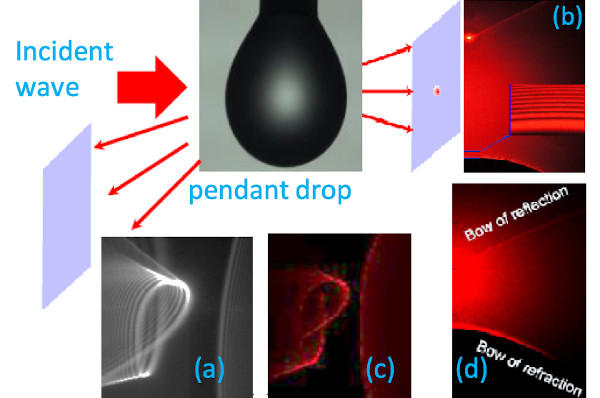 Comparaison des diagrammes de diffusion d'une goutte pendante obtenus expérimentalement (a), (b) et simulés par VCRM (c),(d).